Rider's Automatic Record Changers & Recorders on CD
Rider's Automatic Record Changers & Recorders on CD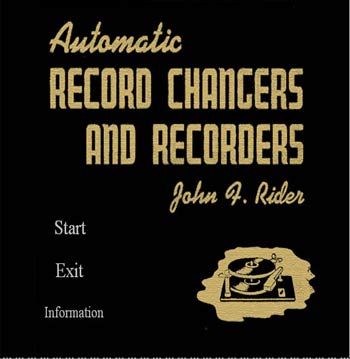 You are bidding on a great resource for people who like to repair old record changers or recorders. Now, Rider's Automatic Record Changers and Recorders is on CD. The entire book (723 pages!) is contained on one CD, scanned at 300 dpi so that you won't be straining your eyes to read the fine print, photographs, lists, diagrams, and schematics.
Chapter I (pgs. 1-28): Motors and Drives: D-C Motors, A-C Motors, Universal Motors, Maintenance of Motors, Commonplace Troubles.
Chapter II (pgs. 29-46): Recorders and Phonographs: The cutting Head, The Groove, Recording Needles, Pick-ups, Phonograph Needles.
Chapter III (pgs. 47-52): Automatic Record Changers: Mechanisms, Troubles.
Chapter IV (pgs. 53-60): Analysis of RCA Model RP-152-C Record Changer, Manufacturer's Service Data (pgs. 61-723)
This CD contains the book in its entirety in Adobe PDF format with an auto-start program that allows you to just put the CD into your player and start viewing the data and an alphabetical index so you can quickly find the radio data you need. (not on Macintosh or maybe later versions of Windows)